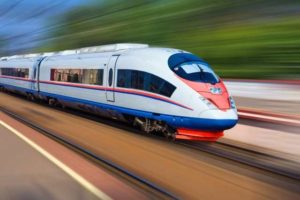 In association with key industrial partners ReshoringUK recently hosted a focused rail industry event. Held on 25th May 2016, at the Manufacturing Resource Centre, Alcester, the sector-specific day attracted over 80 visitors from leading UK companies. While some are already involved with the rail sector, others were keen to discover more about the industry and the opportunities available to become part of its supply chain in the UK.
Motivational speaker, Steve Nevey, chaired the day's presentations that were kicked-off by Dr Andy Tranter, Patent Attorney Partner for Barker Brettell. He covered the management of IP during innovation and collaboration, which included the different types of IP and Patent protection, with plenty of expert tips.
Roland Hill, Contracts Manager, Crowle Wharf Engineers (CWE), made the first keynote presentation entitled 'UK Railways – A Tier 1's View'. CWE specialise in the overhaul, fabrication and machining of bespoke and multiple run products for safety critical and demanding environments. The company supports and services a wide range of industries including rail (vehicle and infrastructure), steel manufacturing, power generation and oil & gas.
'Additive Technologies in Rail – Drivers and Challenges' was the title of the second keynote presentation from Dave
Walker, EMEA Development Manager, Parker Hannifin Rail. He explained that while additive manufacturing (AM) processes are not new, having been established in the 1980s, opportunities for the various technologies exist in the rail sector: "The main impact for AM centres on vehicle light-weighting as components can be shape optimised and traditional materials can be replaced, with positive benefits on both cost and carbon reduction. We estimate for urban train systems that for every 10 per cent of weight reduced around 6 to 9 per cent energy saving is achieved."
Executive Director for the Rail Alliance, Robert Hopkins' presentation covered the alliance's SME Rail Mentoring Initiative. He rhetorically asked 'What does the Railway Industry need from its supply chain?' The answer he stated covers a number of points: "Innovative, ingenious solutions to existing problems and future challenges, along with sustainability credentials – from both technical and environmental perspectives. Whole Life Cost Models are being considered by the OEMs and top tiers with Directors of Supplier Sourcing now becoming popular job appointments. A practical approach to sharing the burden of risk is becoming more popular."
The final keynote speaker of the day was Andy Blood, Industrial Bid Manager for Bombardier Rail. His presentation highlighted the company's capacity and manufacturing strategies, which proved an eye-opener for most of the attendees. With a global workforce of nearly 71,000 staff, Bombardier is the one of the world's largest manufacturers of both planes and trains.
He stated: "Over 4,000 vehicles have been built in our 91,000 m2 workshop in Derby. We have 3,500 UK employees with 1,500 at Derby providing design, engineering, vehicle body manufacturing and assembly, as well as static and dynamic testing."
As part of his presentation Andy Blood explained the company's CKD (Complete Knock Down) stage-by-stage manufacturing process that has been developed to improve production efficiency and reduce workplace accidents and WIP. Using this innovative process staff at Bombardier can build a rail car in 10 to 12 hours.
"With additional presentations from Autodesk on 'The Future of Making Things' and 'Rail Supply Growth Fund' from Finance Birmingham, as well as keynote speakers from the rail industry's leading 'blue chip' manufacturing companies the transfer of knowledge to the audience at this vertical sector event has been exceptional," concludes Association Chief Executive, Julia Moore.