2019 Events
Manufacturing Solutions Ireland-12th June, 2019
Utilising a unique exhibition trailer inside of which we have up to 24 Exhibition stands we invite companies to come with us to showcase their technologies and services on board our vehicle as we visit the prime sites and meet with the Engineering, Production, Design and Development Teams who rarely get a chance these days to visit the more traditional trade show.
If you would like to find out more about this unique opportunity to exhibit to the heart of the customer, please contact Julia@gtma.co.uk
==================================================
---
2018 Events
If your business needs trusted suppliers, Reshoring UK could provide the Solution
A collaboration of 13 leading industrial engineering and technology associations working together to assist manufacturers connect with trusted, accredited suppliers capable of delivering products and services that match their varied requirements.
To Register or find our more, click HERE
Who Should attend?
Manufacturers In The high value technology sectors 
When?
12.30pm Wednesday 16th May, 2018 
Where?
Manufacturing Resource Centre, Adams Way, Alcester B49 6PU 
Free parking and Buffet Lunch
==================================================
UK Industry Tour,  18th – 22nd June 2018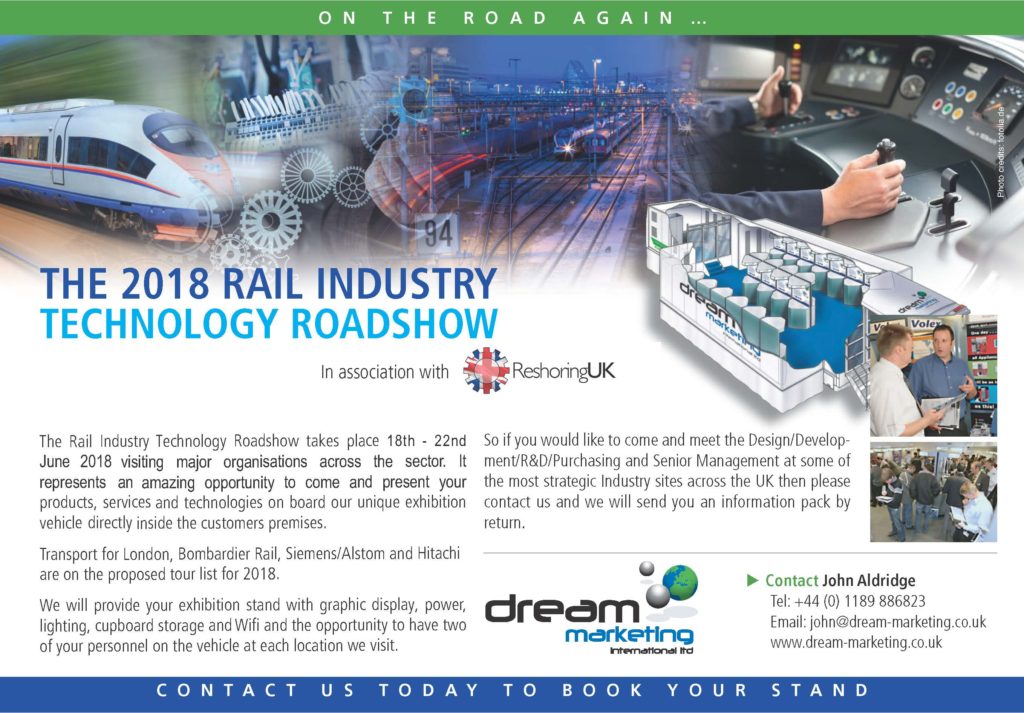 The rail Industry Technology roadshow takes place in June, 2018 visiting major organisations across the sector. It represents an amazing opportunity to come and present your products, services and technologies on board our unique exhibition vehicle directly inside the company premises.
Hitachi, Alston/Siemens, Bombardier rail and Transport for London are on the proposed tour list for 2018. We will provide your exhibition stand with graphic display, power lighting, cupboard storage and wifi with the opportunity to have two of your personnel on the vehicle at each location we visit.
So, if you would like to come and meet the Design/Development/R&D/Purchasing and Senior Management at some of the most strategic Industry sites across the UK, please click HERE for the full information pack.
---
2017 Events
In association with key ReshoringUK Partners the GTMA is holding a Manufacturing Solutions Event at Yamazaki Mazak on 12th September 2017, from 8.30am to 4.00pm.
Supported by ReshoringUK Partners – EIA, BMTA, CMF, PMMDA, MMMA, BFPA, BAF, Gambica, WAF 
The show will act as is a focal point for manufacturing technologies and engineering solutions for the Automotive & Rail Sectors.
Exhibiting will be the most advanced providers of metrology, inspection, machine tools, workholding, cutting tools, and CAD/CAM/PLM manufacturing software and ancillary products and services.
Bringing all the leading technology suppliers together the event will be an ideal conduit for the transfer of technology from the specialist suppliers to the practical industrial landscape, where its take-up and practical application can be used to gain a competitive business advantage."
Additionally, a comprehensive programme of leading industrial keynote speakers from Automotive & Rail will also be an integral part of the event. Speakers include Jaguar Land Rover, Bombardier Rail, Transport For London (TFL), Rail Alliance, & Professor David Bailey but to name a few
Free parking and refreshments are available to all Manufacturing Solutions visitors.
==================================================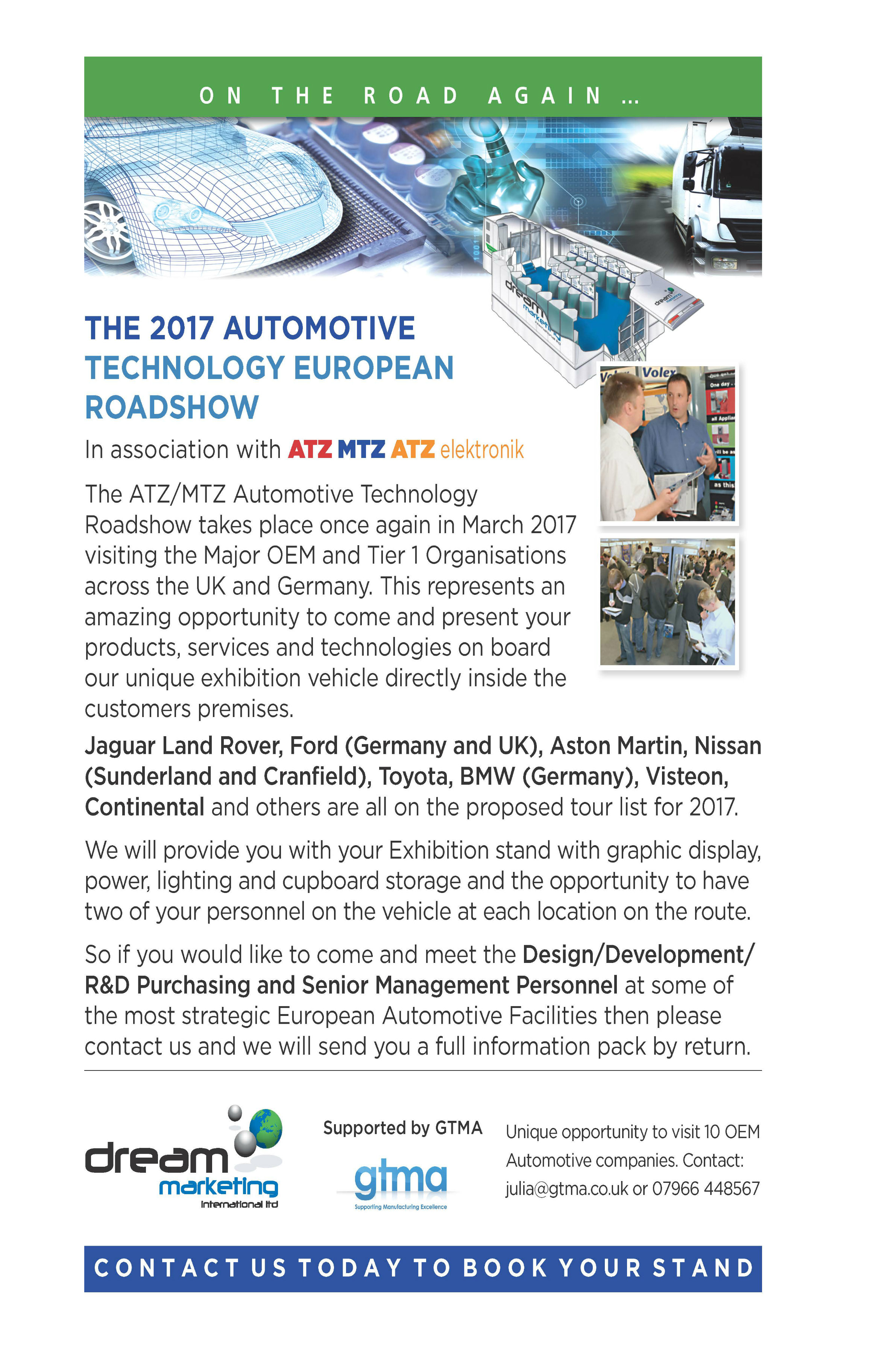 ==================================================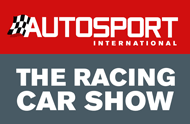 Autosport International is Europe's largest indoor pre-season motorsport event and will be celebrating its 27th anniversary between 12th-15th January 2017 at the NEC in Birmingham.
The show is unique in that it encompasses two trade-only days and also two days for the general public. Featuring the very latest in motorsport, automotive and performance engineering technology, alongside cars and exhibitors from every level of motor racing, the show provides the perfect platform for members of the industry to meet, network and do business as well as enthusiasts to see the fastest cars, biggest stars and most amazing live action.
For further information and to register then please click here
---
2016 Events
Automotive Supply Chain Event 
Date of Event – 6th September 2016, 9.00am to 3.30pm
Location – Manufacturing Resource Centre, Adam Way, Alcester B49 6PU, Warwickshire
Speakers include: Jaguar Land Rover and Unipres
ReshoringUK has launched a new initiative to unlock opportunities in the multi-billion pound Automotive sector, with the support of our Partners GTMA| BMTA | CMF |PMMDA | MMMA | EIA|BAF|BFPA|GAMBICA
PROGRAMME
8.30  Registration and coffee
9.15   Introduction to the Reshoring Network – Julia Moore GTMA
9.30   Chairman: Steve Nevey – Inspirational Speaker and former technical team player in Red Bull Racing Team 2010.
09.45   Dr Andy Tranter – Partner & Patent Attorney –Barker Brettell
Presentation:  Driving Innovation Back to the Future
10.15   Asif Moghal – Senior Industry Manager – Industry Strategy & Marketing – Autodesk
Presentation: The Future of Making Things
10.45   Coffee Break – SECO Technical Centre – ROEMHELD demonstration
11.15   Mike Mychajluk – Supply Chain & External Engagement Manager – Jaguar Land Rover.
Presentation: Jaguar Land Rover and Automotive Council Update
11.45 Dave Atkinson – UK Head of Manufacturing SME Commercial Banking at Lloyds Bank
Presentation: Investing to Drive Productivity
12.15   SECO Machining demonstration/ ROEMHELD Work holding demonstration in Technology Centre.
Buffet Lunch in 'Oasis'
13.30  Unipres – An introduction to the Unipres group and the Press and Die    maintenance programme.
Paul Armitage –Die and Press Maintenance Manager – Unipres
Adam Colborn – Die Maintenance Team Leader – Unipres R & D focusing on toolmaking and the problems using UHSS
14.20  ISF and Composite Process for the Automotive Industry – Roger Onions GTMA
15.00   Close
==================================================
A Joint Rail Event between Reshoring UK  & Rail Alliance.
In Association with our partners GTMA: MMMA: PMMDA: CMF: BMTA and  EIA
Date of event – Wednesday 25th May from 10.00am to 3.00pm
Location – Manufacturing Resource Centre, Alcester, Warwickshire
Guest Speakers include:
Bombardier Rail, Andy Blood, Industrial Bid Manager – Presentation: Capacity & Manufacturing Strategies
Parker Hannifin Rail, Dave Walker, EMEA Development Manager – Presentation: Additive Manufacturing Within the Rail Sector
Crowle Wharf Engineers, Roland Hill, Contracts Manager
Rail Alliance, Colin Flack, Chief Executive – Presentation: SME Rail Mentoring Initiative
Finance Birmingham, Colin Harris, Investment Director – Presentation: Rail Supply Growth Fund.
Autodesk, Vicky Davenport – Presentation, The Future of Making Things
Barker Brettell, Andy Tranter, Partner & Patent Attorney- Presentation: Managing IP during innovation & Collaboration
GTMA, Roger Onions, Business Development Director – Presentation: Incremental Sheet Forming
Seco Tools, Live Machining Demonstration on a DMG Mori, DMU 85 Monoblock
To register please click here  or e-mail info@reshoringuk.co.uk
Spaces will be limited and allocated on a first come, first served basis
Manufacturing Resource Centre
Adams Way, Alcester
Warwickshire, B49 6PU
Tel; 0121 392 8994