GTMA
BRINGING BUYERS AND SUPPLIERS TOGETHER…
GTMA is a UK-based trade association representing leading companies in precision engineering, rapid product development, toolmaking, tooling technologies, metrology and other critical manufacturing related products and services.
We have a committed strategy to focus on major market sector opportunities, from aerospace and automotive to medical and marine.
Our work with OEMs and Tier 1s has seen initiatives to raise standards in our membership base which is now seen as a valuable resource for buyers building manufacturing supply chains.
These initiatives include the launch three years ago of the Manufacturing Resource Centre (MRC) specifically dedicated to providing supply chain solutions.
GTMA members receive a range of benefits – among these are business development programmes to ensure they reach the very high standards required by the sector buyers.
Members can also take advantage of cost savings in areas like insurance and medical cover; as well as a range of business assistance services, technology advice, marketing activities, knowledge transfer and networking, and many others. Please see the Key Benefits page.
Here are some of the services available to members:
Techniques for valuing Intellectual Property (IP)
Website & Marketing opportunities
Mediation services
Metrology Helpline
Business Helpline
Statistical Service
Business opportunities
If you are a buyer or potential supplier please call GTMA and we will be happy to discuss how we can help you in your business. Please telephone + 44 (0)121 392 8994 or email Julia Moore, GTMA CEO, at julia@gtma.co.uk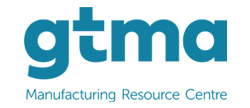 Address:
Manufacturing Resource Centre
Springfield Business Park
Adams Way
Alcester
Warwickshire
B49 6PU
Telephone: 0121 392 8994
Website: www.gtma.co.uk
Contact: Julia Moore, CEO
Email: julia@gtma.co.uk